South Koreans are known for their obsession with a good caffeine fix. From small-batch pour-overs to the Instagram-famous dalgona brew, coffee has been a constant part of people's lives, and is sometimes considered a status symbol in the East Asia nation. It is not hard to spot someone holding a takeaway coffee cup, while walking along the trendy streets of Seoul or other big cities.
The high consumption rate of disposable coffee cups, driven by an exponential growth in coffee outlets across the republic in recent years, however, has exacerbated a plastic waste crisis that is worsening due to the coronavirus pandemic. As East Asia's largest branded cafe market, South Korea has more than 70,000 coffee outlets. About 8.4 billion single-use cups are used per year by South Koreans, according to data from the Container Deposit System Management Organisation. The government now wishes to reverse the trend by mandating that coffee chains and fast-food outlets start charging a refundable fee to customers for every single-use plastic or paper cup they give out.
The institution of the scheme, already approved by Cabinet and scheduled for June this year, has caught the attention of worldwide observers, especially as a broader effort to create a circular economy that reduces waste and throwaway items is gaining momentum and disrupting traditional conversations about recycling. All eyes are on whether South Korea succeeds in getting buy-in from both businesses and consumers.
Insiders familiar with the workings of the new scheme told Eco-Business, however, that the Korean government so far has not been forthcoming with details, such as how the cups are going to be collected and recycled, and who will pay for the scheme. This is worrying, given that the plan is just months away from execution. The government needs to be more transparent and aggressive in pursuing its objective of waste reduction, they said.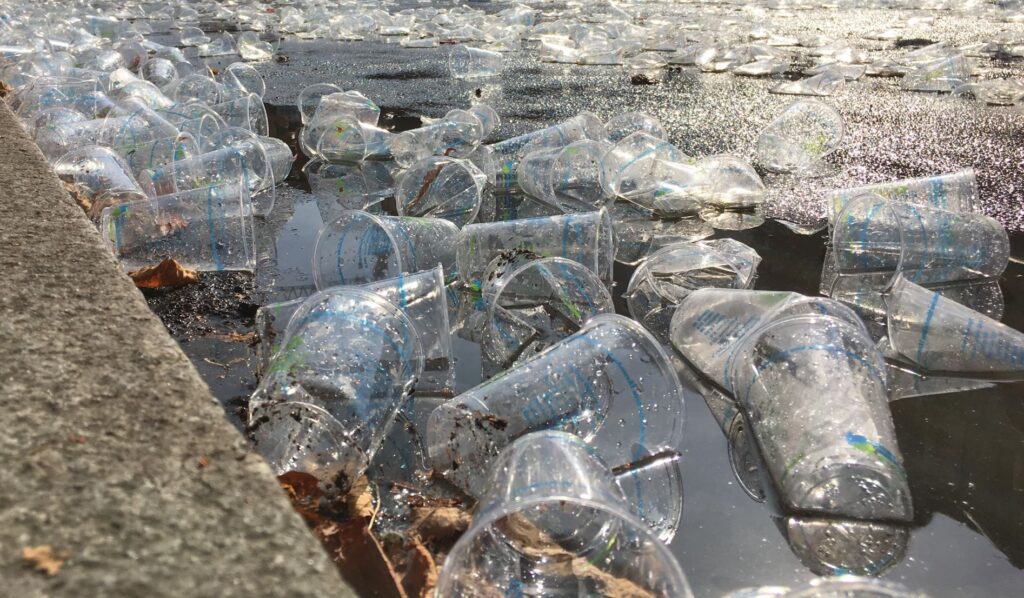 One obvious flaw that critics point out is the limited coverage of the scheme. Exemptions to the legislation mean that only businesses with 100 or more outlets, usually branded cafe and fast food franchises that currently form 35 percent of all related businesses, would be subjected to the new rule. Smaller cafes and mom-and-pop shops are allowed to opt-out of the scheme. 
The limited market coverage might lead to less-than-ideal results, said experts. They have cause for concern since a similar disposable cup deposit introduced in 2002 had failed before. The scheme, then not written into law, had been scrapped in 2008 for a variety of reasons, ranging from low return rates to political considerations, according to people that Eco-Business spoke to. 
The stakes are especially high, as South Korea's bid to legally extend its mandate and add a deposit to takeaway coffee cups, which have become a public eyesore as they add to street litter, will be a world first. The Deposit Return Scheme (DRS), a mechanism common in European jurisdictions, where an additional payment for single-use beverage or food containers, charged at the point of sale, is refundable to consumers who return the used cups and bottles, has been identified as a potential solution to the trash crises that many countries are facing. 
In Asia, Singapore, for example, has announced that it will be implementing the DRS for beverage containers by 2022 as the first phase of the Extended Producer Responsibility (EPR) approach for packaging waste management, in an attempt to close the plastic waste loop. 
In 2019, the European Union (EU)'s Single-Use Plastics Directive mandated for member states to collect 90 per cent of all plastic beverage containers by 2029.
Miquel Roset, a close watcher of the situation in South Korea and director of Retorna, an international non-profit which works on raising awareness of zero waste goals, warned that limiting the scope of the new scheme creates an unequal playing field for businesses involved and also causes confusion to consumers. 
Read the full post here